Gateway & Network Accessories
Updated by Leah
1. Gateway Climkit
The Gateway Climkit is supplied with its 24V DC power supply on DIN rail and is connected via the + and - input on the top of the Gateway.
It is connected to the network via the Ethernet port.
The RS485 AB SG input allows you to connect electricity meters and other Modbus compatible devices (RS485-Mbus converter, WP8025 8-relay module, etc.).
Gateway width: 2 DIN modules.
LED indicators
Four LEDs on the front panel indicate the status of the Gateway:
"Lightning" lit blue: the Gateway is correctly powered.
"Terrestrial globe" flashes yellow: the Gateway has booted correctly but is not connected to the internet or to the Climkit server.
"Earth globe" lit yellow: the Gateway has booted correctly and the internet connection is established.
Tx and Rx flash: the Gateway is communicating with the devices connected via RS485.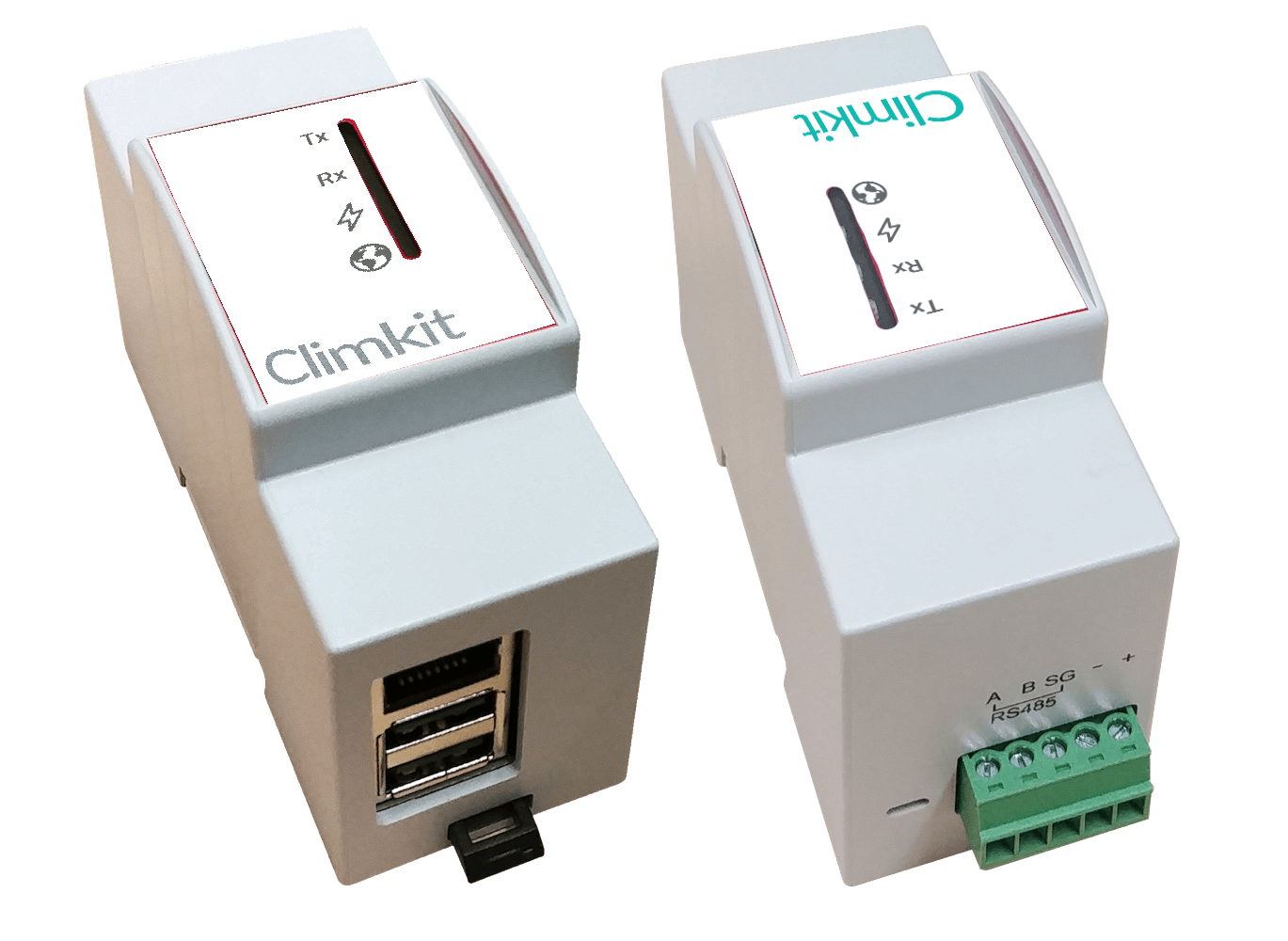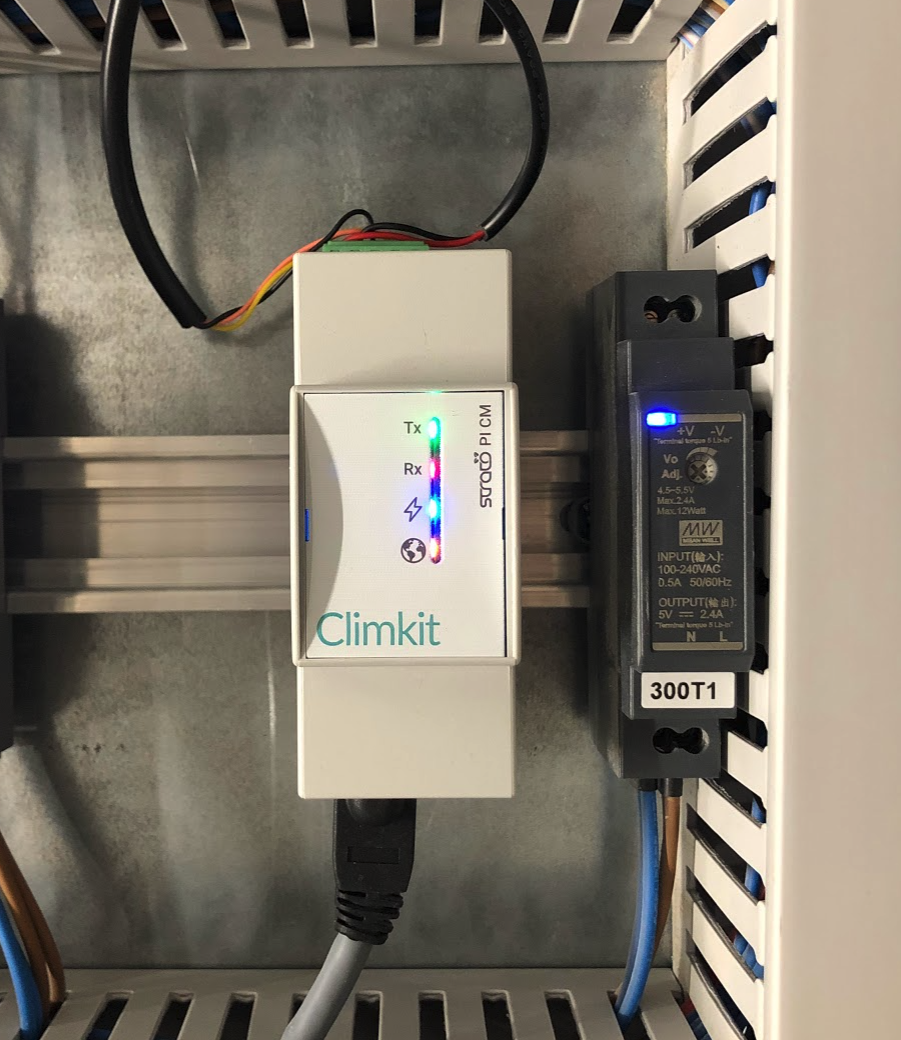 MBus-RS485 converter
MBus-RS485 converters allow you to connect MBus meters (generally heat and water) to the Gateway Climkit.
There are 2 models depending on the number of Mbus meters connected:
MBus60 for max 60 counters; width: 4 DIN modules
MBus200 for max 200 counters; width: 8 DIN modules
It is possible to connect several converters to the same Gateway.
Delivered with 24V DC DIN rail power supply.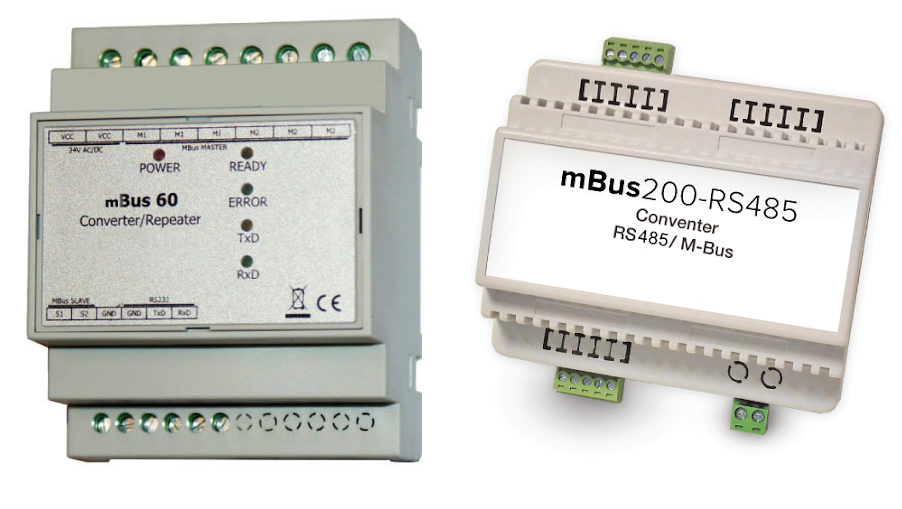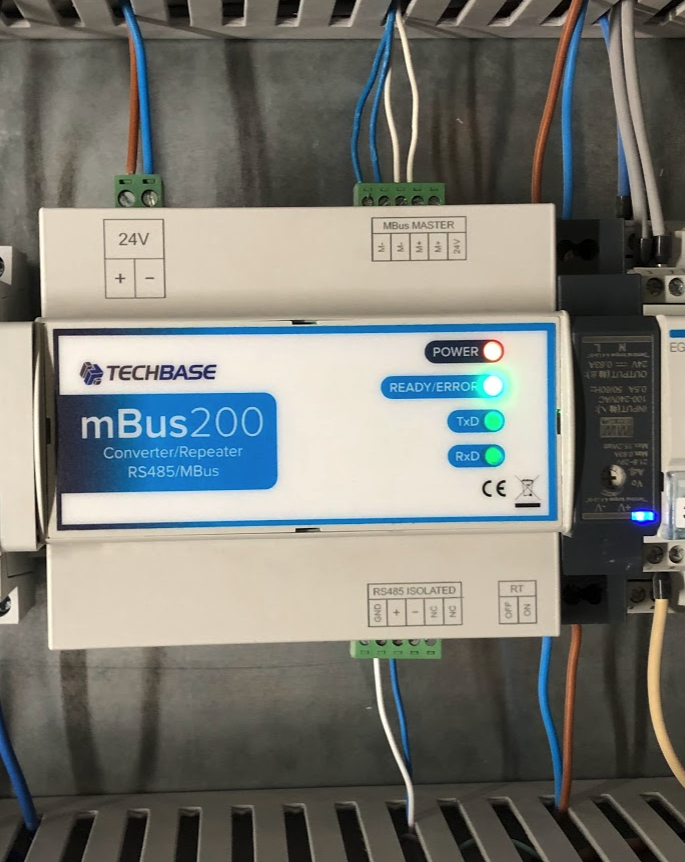 RS485-Ethernet converter (Modbus RTU to Modbus TCP)
The RS485-Ethernet converter allows you to connect a series of meters to a LAN network inside the building.
It is useful for example for connecting two remote electrical panels without having to add a Gateway.
It is also used to connect RFID readers (see RFID readers and relays ).
Delivered with 24V DC DIN rail power supply.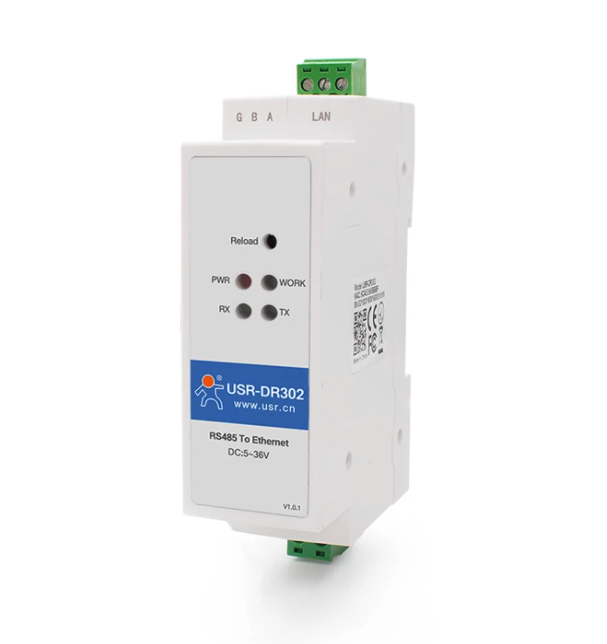 2. Routers
4G router - Teltonika TRB140
The Climkit 4G router is supplied with its 24V DC power supply, a 3m remote antenna and an activated SIM card.
The device used is a Teltonika TRB140 (or equivalent). It attaches directly to a DIN rail.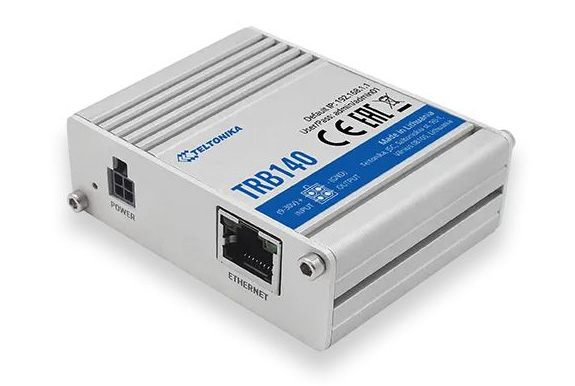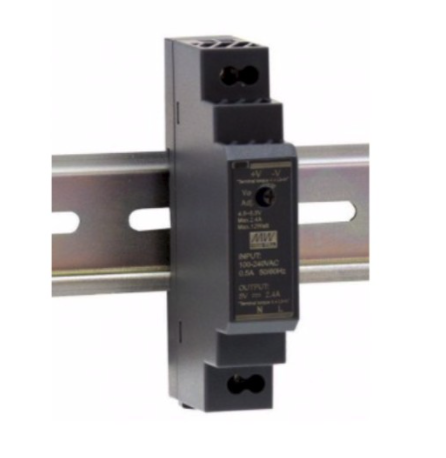 When the GSM signal is too weak or absent, order an antenna extension (5m or 10m) or relocate the router to an area with signal.
It is not recommended to extend the antenna more than 20m.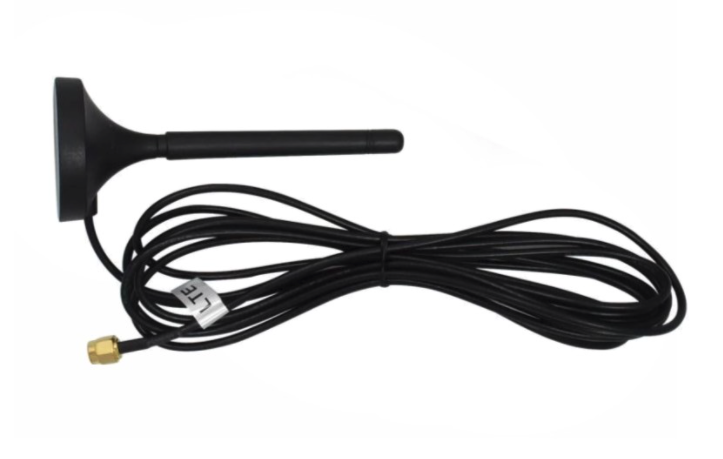 Connection
Once started, four LEDs indicate 3G/4G signal strength. If no signal is received, the LEDs flash.

Configuration
The router does not require any special configuration, except when certain devices require a fixed IP address (Gateway used with charging stations, Ethernet-RS485 converter, etc.).
LAN router
In case a local internet connection is available from another router, it is recommended to create a subnet with a standard router to which all devices are connected (Gateway, charging stations etc.).
The device used is a TP-Link TL-R470T+ (or equivalent) with 4 LAN + 1 WAN ports delivered with 12V DC or 5V DC DIN rail power supply depending on the model.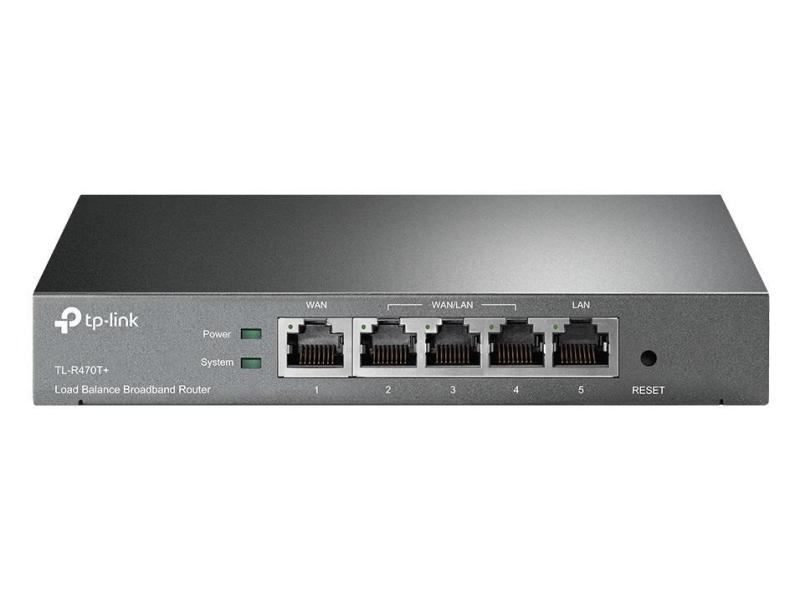 3.Switch
Ethernet switch
The TRB140 4G router only has one Ethernet port. To connect other devices to it, an 8-port ethernet switch is used.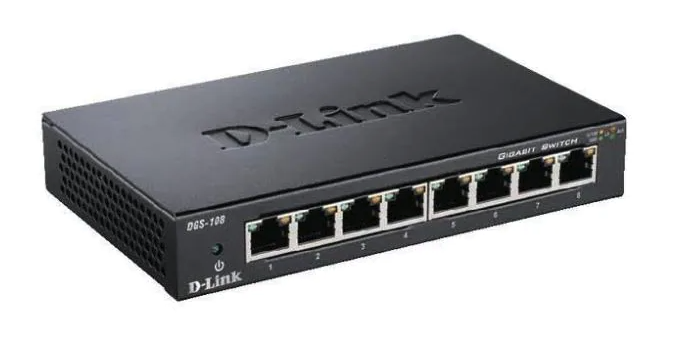 PoE switch
A PoE switch is used to connect WiFi Access Points powered by PoE.

DIN mounting
Our switches can be installed on a DIN rail directly using two supports which attach to the back of the device.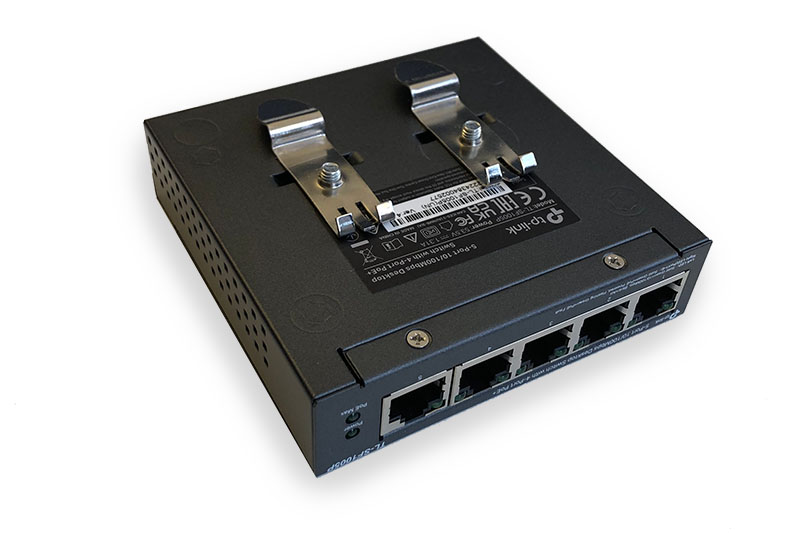 4. WiFi network
WiFi Access Point (AP)
The ABB Terra AC charging stations supplied by Climkit communicate with the Gateway via the router via an Ethernet or WiFi connection.
WiFi is recommended in underground car parks, as it simplifies the installation of new terminals later.
In order to cover the entire surface of the car park, one or more WiFi APs are installed. Coverage is 100 to 200 m2 per AP depending on the topology of the parking lot.
The AP provided is a TP-Link (or equivalent).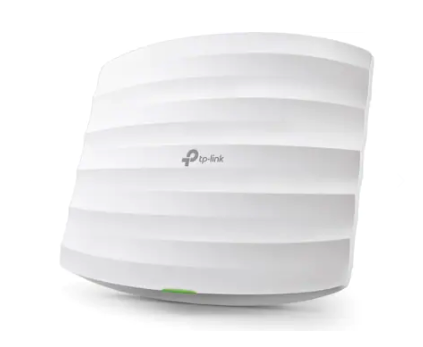 Cloud Controller
With the OC200 Omada Cloud Controller, the WLAN network can be managed centrally and professionally.
For optimal management of a network of access points for a car park equipped with charging stations.
Management anytime, anywhere thanks to the Free Cloud. Supports PoE (802.3af/802.3at) for easy installation. Heat-absorbing hardware design with powerful chipset, sturdy metal housing and USB for automatic backup. Omada app for convenient management. Secure guest network with multiple connection options.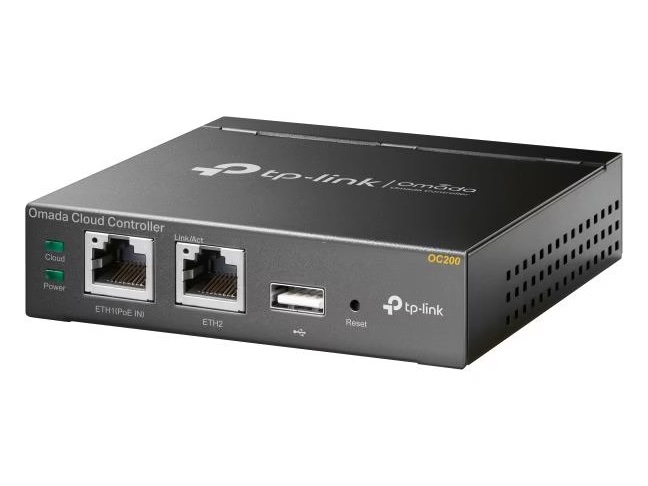 5. Cloud Gateway
The Climkit "Cloud Gateway" consists of virtualizing the Climkit Gateway in the cloud in order to avoid installing one physically.
This option is only possible with the combined use of a Teltonika TRB140 router and an RS485-Ethernet converter.
Features currently possible in this configuration:
Reading Modbus RS485 electrical meters